Vol. 48 (1)
March/Marzo 2000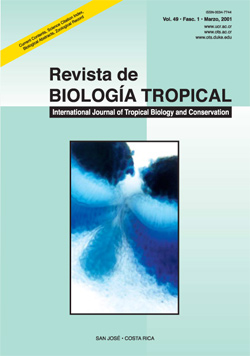 CONTENTS / CONTENIDOS
Botany / Botánica
Frequency and pathogenicity of fusarium wilts (Fusarium solani and Fusarium equiseti) of cotton (Gossypium hirsutum) in Nigeria
Chimbekujwo, I.B.
Morfología y taxonomía de algunas especies de diatomeas del género Coscinodiscus de las costas del Pacífico mexicano
Hernández-Becerril, D.U.
Fase gametofitica del helecho Llavea cordifolia (Pteridaceae)
Reyes J., I., B. Pérez-García & A. Mendoza
Dinámica de la vegetación y del banco de semillas en un humedal herbáceo lacustrino (Venezuela)
Gordon, E.
Temperatura y germinación de las semillas de Dalbergia retusa (Papilionaceae), árbol en peligro de extinción
García, E. & J.F. Di Stéfano
Identificación de un compuesto alelopático de Baccharis boliviensis (Asteraceae) y su efecto en la germinación de Trichocereus pasacana (Cactaceae)
Cazón, A., M. De Viana & J.C. Gianello
Hypotensive action of an aqueous extract of Pimenta dioica (Myrtaceae) in rats
Suárez, A., G. Ulate & J. F. Ciccio
Ecology / Ecología
Caracterización fisicoquímica y biológica de la calidad de aguas en la cuenca Piedras Blancas, Antioquia, Colombia
Posada G., J.A., G. Roldán P. & J.J. Ramírez R.
Population dynamics and spatial distribution of the terrestrial snail Ovachlamys fulgens (Stylommatophora: Helicarionidae) in a tropical environment
Barrientos, Z.
Behavior on flowers, structures associated to pollen transport and nesting biology of Perditomorpha brunerii and Cephalurgus anomalus (Hymenoptera: Colletidae, Andrenidae)
Gaglianone, M.C.
Fluctuación poblacional de Scolytidae (Coleoptera) en zonas reforestadas con Eucalyptus grandis (Myrtaceae) en Minas Gerais, Brasil
Morales, N. E., J. C. Zanuncio, D. Pratissoli & A. S. Fabres
Burrow characteristics and habitat associations of armadillos in Brazil and the United States of America
McDonough, C.M., M.J. Delaney, P.Q. Le, M.S. Blackmore & W.J. Loughry
Helmintos parásitos de la rata Sigmodon hispidus (Rodentia: Cricetidae) de un hábitat estacional y otro perenne en Costa Rica
Rodríguez, B., R. González & M. Chinchilla
Seed dispersal by bats in a disturbed area of southeastern Brazil
García, Q.S., J.L.P. Rezende & L.M.S. Aguiar
Distribución de la garrapata Amblyomma cajennense (Acari: Ixodidae) sobre Bos taurus y Bos indicus en Costa Rica
Álvarez C., V., R. Bonilla M. & I. Chacón G.
Zoology / Zoología
Evaluación rápida de los arrecifes parche de Majagual, Quintana Roo, México
Bastida-Zavala, J.R., A.U. Beltrán-Torres, M.A. Gutiérrez-Aguirre & G. De La Fuente-Betancourt
Distribución, abundancia y morfometría de Strombus costatus, Turbinella angulata, Busycon contrarium y Pleuroploca gigantea (Mesogasteropoda: Strombidae, Turbinellidae, Neptuneidae y Fasciolaridae) en Yucatán, México
Pérez Pérez, M. & D. Aldana A.
Tasa de degradación de madera por el perforador de manglar Psiloteredo healdi (Bivalvia: Teredinidae) en el Lago de Maracaibo, Venezuela
Rojas, J.E. & H. Severeyn
Distribución y abundancia de filosomas de Panulirus (Decapoda: Palinuridae) en el sureste del golfo de California, México
Muñoz-García, I.R., R. Pérez-González, L.M. Flores-Campaña & M.I. Borrego
La comunidad de copépodos (Crustacea) en los giros a mesoescala en el occidente del Golfo de México (Julio, 1995)
López-Salgado, I., R. Gasca & E. Suárez-Morales
Cangrejos braquiuros (Brachyura) de la bahía de Maruata, Michoacán, México
García-Madrigal, M.S.
Reproducción y desarrollo de Ecteinascidia turbinata (Ascideacea: Perophoridae) en Cuba
Hernández-Zanuy, A., A. García-Cagide, M. Esquivel & A. Blanco
Fecundity of Sarotherodon galilaeus (Pisces: CichJidae) in the Opa reservoir, Ile-Ife, Nigeria
Fawole, O.O. & G.A.O. Arawomo
Reproduction, distribution and abundan ce of Bothus conslellatus (Pisces: Bothidae), in the Gulf of Tehuantepec, Mexico
Tapia-García, M., M.C. García-Abad & G. Cerdenares Ladrón De Guevara
Ictiofauna juvenil de fondos blandos durante la transición de "secas" a lluvias en la costa pacífica de Colombia
Velasco, A. & M. Wolff
Earthworms as bio-indicators of metal pollution in dump sites of Abeokuta City, Nigeria
Bamgbose, O., O. Odukoya & T.O.A. Arowolo
New species and distribution record s of Mesoamerican Ateuchus (Coleoptera: Scarabaeidae)
Kohlmann, B.
Odonata of Costa Rica: Diversity and checklist of spedes
Ramírez, A., D.R. Paulson & C. Esquivel
Communications / Comunicaciones
Histopathological characterization of nephritides in the brown capuchin monkey, Cebus apella (Primates: Cebidae)
Borda, J.T., V. Nunes-Bastos, S. Pérez-Escalá & M. Sánchez-Negrette
Foraging over arrny ants by Callithrix aurita (Primates: Callitrichidae): Seasonal occurrence?
Martins, M. M.
Efecto de las actividades humanas sobre la diversidad de mamíferos terrestres en un gradiente altitudinal
Piedra C., L. & L. Maffei
Pisidia magdalenensis (Crustacea: Porcellanidae) commensal of the diogenid hermit crab Petrochirus californiensis (Decapoda: Diogenidae)
Ayón Parente, M. & M. E. Hendrickx
Attempted predation on Brazilian rabbit (Sylvilagus brasiliensis - Lagomorpha: Leporidae) by tayra (Eira barbara - Carnivora: Procyonidae)
Muniz Calouro, A.
Range Extensions / Ampliaciones de Ambito
New records for Stomatopods (Stomatopoda: Crustacea) from the Gulf of Tehuantepec, Mexico
Barbosa-Ledesma, I.F. & J.A. Gamboa-Contreras
First record of Ogyrides alphaerostris (Kingsley, 1 880) (Crustacea: Ogyridae) for Venezuela
Delgado, J., H. Severeyn & Y. García De Severeyn
Primer registro para México de Amphilochus casahoya (Crustácea: Amphipoda: Amphilochidae)
Oliva-Rivera, J.J. & M.P. Méndez-Guzmán
The shrimp Farlantepenaeus notialis (Decapoda: Penaeidae) in the Gulf ofMéxico
May Kú, M. A. & U. Ordóñez López
Algansea barbata (Pisces: Cyprinidae) in the State of Mexico, Mexico
Figueroa-Lucero, G.
First record of Basiceros conjugans (Hymenoptera: Formicidae) in Brazil
Charles Delabie, J.H.
Creightonidris scambognatha (Hymenoptera: Formicidae: Basicerotini) in the Atlantic forest biome, east of Bahia, Brazil
Charles Delabie, J.H.
Zalophus californianus (Pinnipedia: Otariidae) en Costa Rica
Cubero-Pardo, P. & J. Rodríguez F.
Ampliación de ámbitos geográficos de diatomeas mexicanas
Bravo-Sierra E.