Catherine Cardelús Climbs into the Canopy, Uncovers Insights about Epiphytes
The summer after Catherine Cardelús graduated from Barnard College in 1996, she found herself about 30 meters above the forest floor exploring the rainforest canopy for the first time at La Selva.
"It was magnificent," she said. "When you're just peeking your eyes over the branch, you're looking under all of these plants, and there's so much life there."
Cardelús hasn't stopped climbing. She received a prestigious NSF Graduate Research Fellowship and her doctorate from the University of Connecticut. Now, as a Professor of Biology & Environmental Studies at Colgate University, one of Cardelús' main research interests is to better understand how epiphytes (commonly described as plants that live on other plants) in the rainforest canopy function under changing conditions.
Since her first trip to La Selva in 1996, Cardelús has returned most every year to the research station to collect data in the canopy or to teach her tropical ecology course, mentoring a cadre of students in tropical ecology along the way."I spent two months there (La Selva) after college, and that was it," she said. "I was hooked and never going to leave again."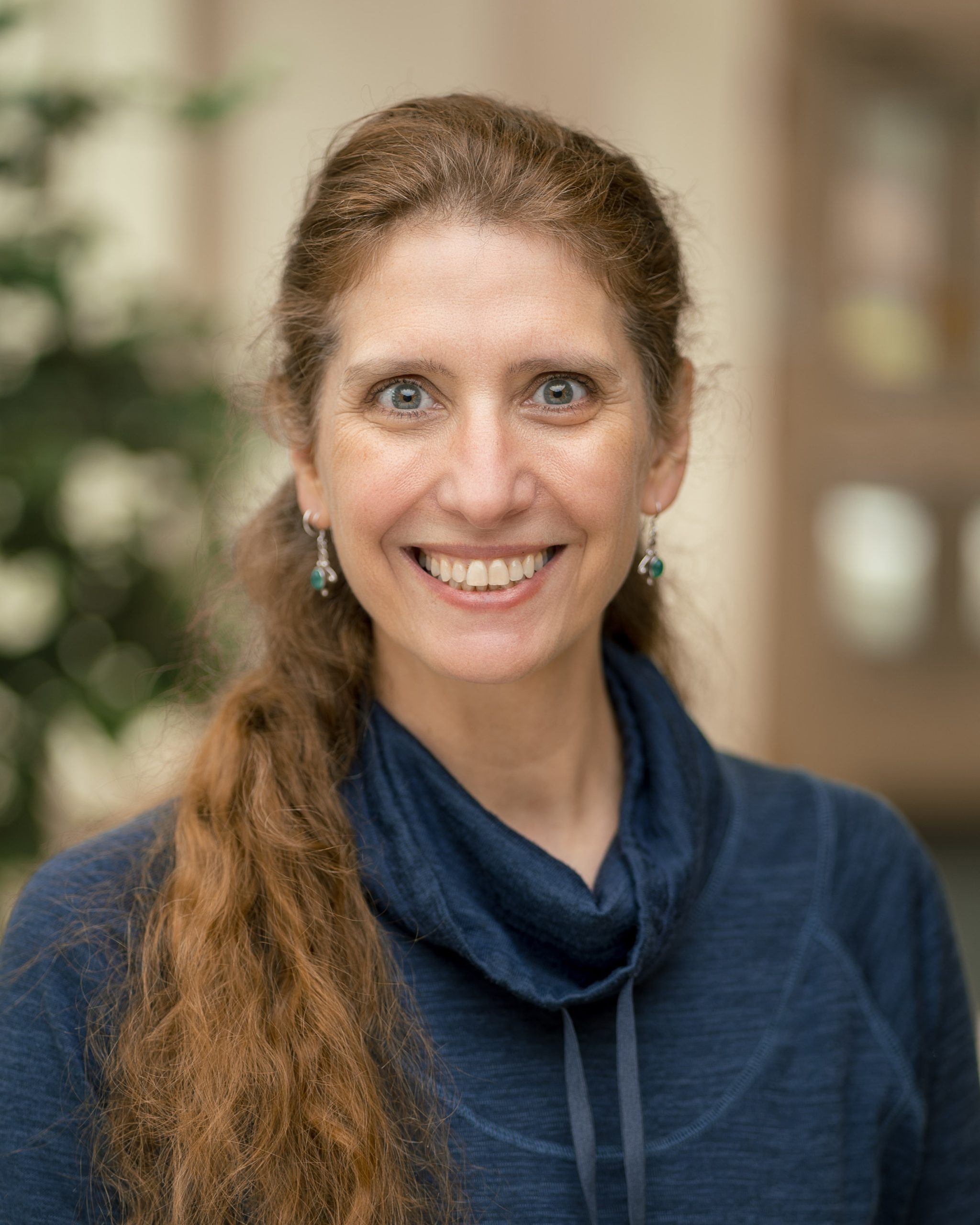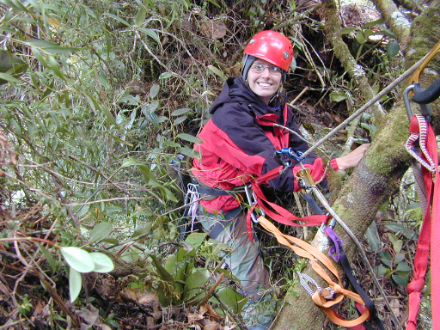 Meet Epiphytes
As a tropical biologist, Cardelús is particularly interested in how epiphytes acquire nutrients and how their ability to do so may shift with climate change. This question is a complex one, especially given the diversity of epiphytes present in the canopy. When climbing her first tree, Cardelus was struck by the variety of plants living on each tree branch.
"I can have 60 species on a 3-meter branch, whereas on the forest floor, in 3 meters, you don't get 60 plant species," she said.
Diversity isn't the only characteristic separating ground-dwelling from canopy-living plants. While plants on the forest floor have roots that dig into a thick layer of soil, epiphytes in the canopy do not have this option. What they do have, however, is closer access to the air – including rain – as well as a thin layer of soil.
So, epiphytes use what they have available to them.
"I can have 60 species on a 3-meter branch, whereas on the forest floor, in 3 meters, you don't get 60 plant species"
Cardelús explained three different successful strategies present among canopy plants in the rainforest. For example, some bromeliads utilize leaves, instead of roots, to absorb water. They have a "special cell" in their leaves enabling them to do so. Other bromeliads have a tank where they catch rainwater. This tank often serves as a handy home for frogs to lay eggs and spiders to hunt while the base of the tank is home to mutualistic ant colonies.
Bromeliads aren't the only epiphyte to leverage canopy resources. Aroids have a different strategy, using aerial roots that "hang in the air" to absorb nutrients when they are wet, Cardelús explained. Other epiphytes, such as ferns, have roots that burrow into the canopy soil. This soil layer is much thinner than soil on the forest floor – about 2 to 6 centimeters.
This soil layer may be thin, but it is popular. Cardelús said canopy soil is home to a variety of organisms' roots that are "intertwined." To illustrate, when conducting field work and sampling the canopy soil, Cardelús said, "It takes hours to shake off the soil and take off the root systems from it, so it's a very complex, intricate system."
Although many of these diverse canopy plants are competing for the same limited resources in the canopy, Cardelús said they tend to coexist with one another.
"I always think of this as the greatest example of niche partitioning," she said. "All of these plants are living on top of each other, and they're avoiding competition. They take up nutrients differently and have different light demands."
"I always think of this as the greatest example of niche partitioning […] All of these plants are living on top of each other, and they're avoiding competition"
OTS as a "Facilitator"
Epiphytes aren't the only organism living in a rare spot and working closely with one another. So, too, do scientists at OTS who are working and living in a remote research station and uncovering scientific insights.
At OTS, Cardelús said she has found a strong community filled with like-minded "quirky, lovers of nature." Cardelús' research community also includes the students she has trained in canopy biology at La Selva and field assistants who know the forest well.
Exploring the canopy is hard and rewarding work, according to Cardelús. Each person carries around 30 pounds of equipment to the study tree, including about three liters of water. Once the team has walked approximately an hour, they then begin to climb the tree. Reaching the top of the canopy can take anywhere between 15 to 45 minutes, depending on the day and the tree.
And that's only the beginning of the field day.
"It's really gorgeous, but it's exhausting (to climb)," Cardelús said. "And once you get there, then you've got to start working."
Cardelús and the students begin tagging plants and collecting leaf samples. For example, one of her recent studies focuses on how epiphytes respond to varying nutrient and water levels – an important topic as climate change's impacts accelerate. While Cardelús is currently working with her collaborators to publish the findings for this study, she shared some big-picture insight about what could be happening among epiphytes in the canopy.
"We're disrupting millions of years of evolution in a habitat that will likely see a loss of species richness," she said.
These samples that the team collects in the canopy are integral to better understanding which epiphytes will be "winners" and which ones will be "losers" in a shifting environment. But the work doesn't stop with climbing the tree. Back at La Selva – after a shower and some food, of course – the team then works to process the plants right away.
"Women like Beth showed me that it was possible to be a strong field biologist, mentor, professor, and parent"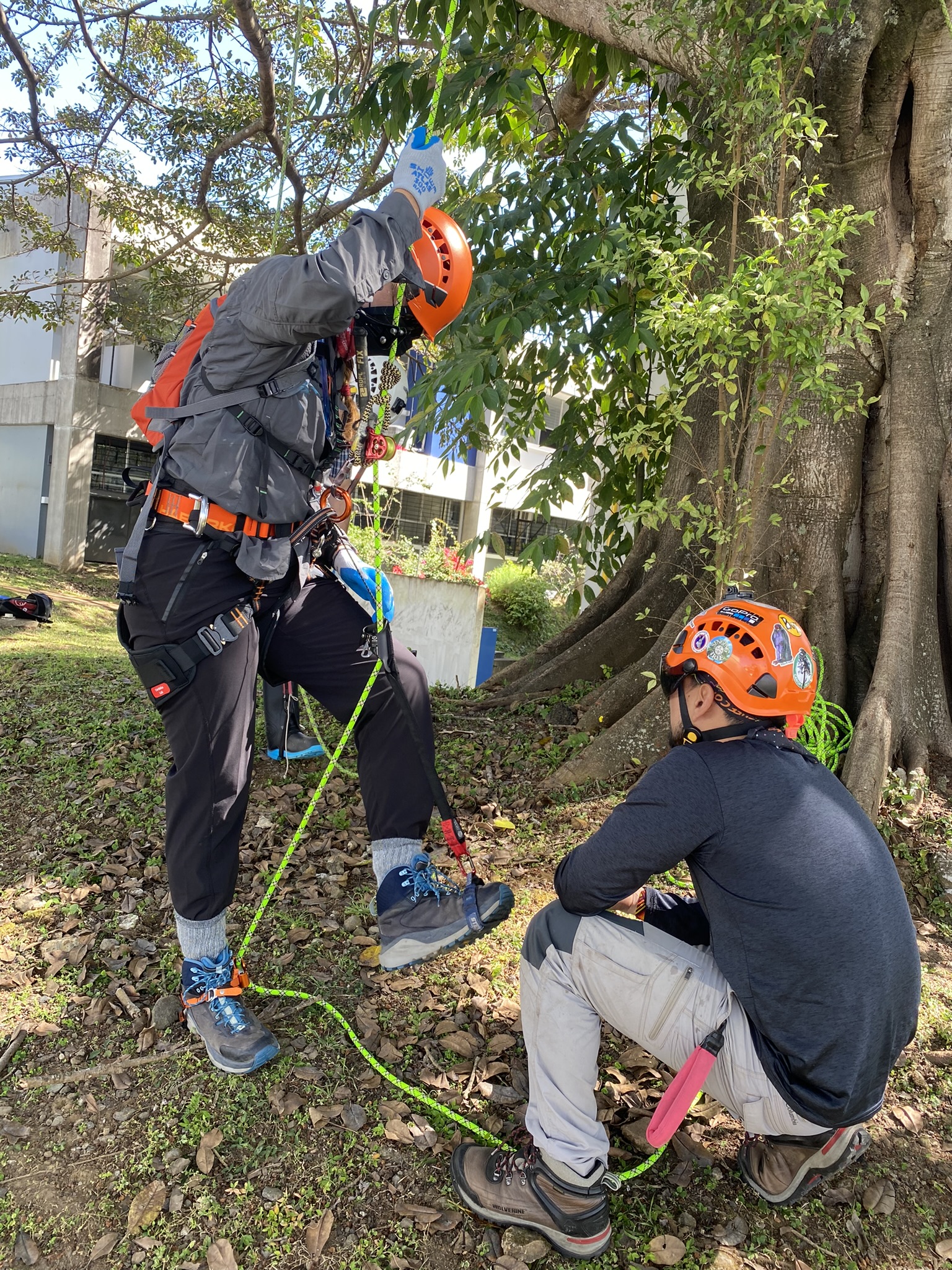 Cardelús works closely with her students in the field and the laboratory. In fact, throughout her career, she has invested her time and energy as a research mentor to over 100 students – many of these students are females.
Investing in the next generation of female scientists is arguably in Cardelús' academic blood.
She was trained by powerful, female mentors herself, including Helen Young, Professor Emerita of Biology at Middlebury College, who was her undergraduate thesis advisor at Barnard College; Robin Chazdon, Professor Emerita at the University of Connecticut, who was her doctoral advisor; and Regents' Professor Michelle Mack at Northern Arizona State University, who was her post-doctoral advisor at the University of Florida.
Cardelús also found role models through OTS while in graduate school, including Elizabeth (Beth) Braker, President and CEO of OTS and Professor of Biology at Occidental College, who she observed balancing the different roles of scientist and mother.
"Women like Beth showed me that it was possible to be a strong field biologist, mentor, professor, and parent – that it was even possible to bring your children to the field. They were the bright shining stars for a lot of us."
Beyond mentorship, Cardelús said OTS has been "integral" to her success as a tropical biologist. She describes the research station as "filling the interstitial space," by providing infrastructural support, including a place to stay and food. Cardelús highlights the research support she gets at the field station.
"There is so much knowledge and talent among the staff, who are critical to the success of any project," she said. "You can always find someone who knows where a particular tree is or where to get an unusual piece of equipment (and also the best places to go dancing!)"
She also said she values the relationships and community forged at the research station, from meeting her husband in 1998 during a Tropical Plants Systematics course at La Selva to bonding over bug bites with other researchers in the dining hall and working with talented field and lab technicians.
"There's something that's very wonderful about the fact that I know where my people are," she said.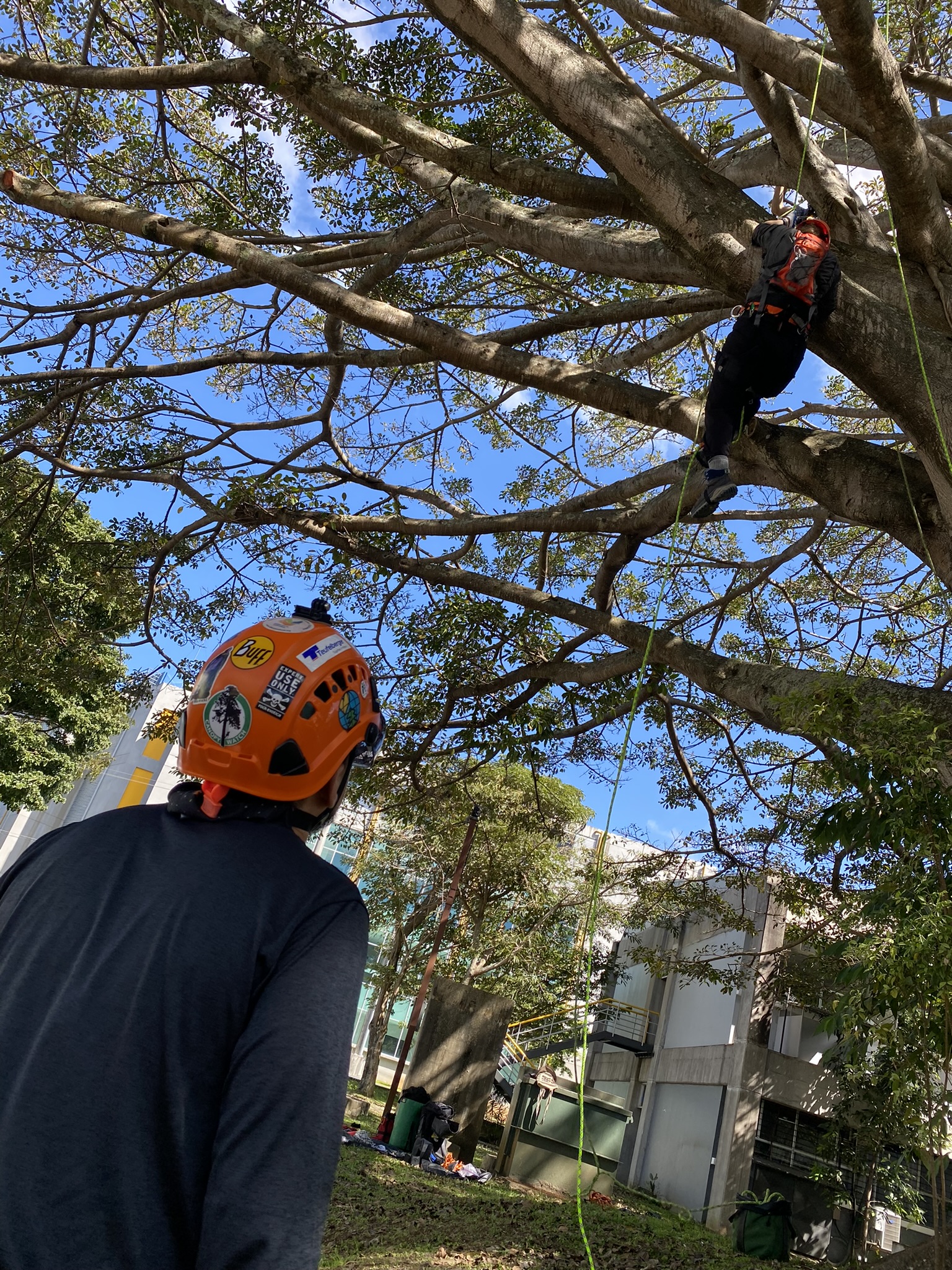 In January 2023, Cardelús was back "among her people," fostering the next generation of researchers as she taught the Canopy Biology course at La Selva. During this course, she mentored a new group of students as they explored the rainforest canopy – and perhaps some of these students will also find a lasting community in the process.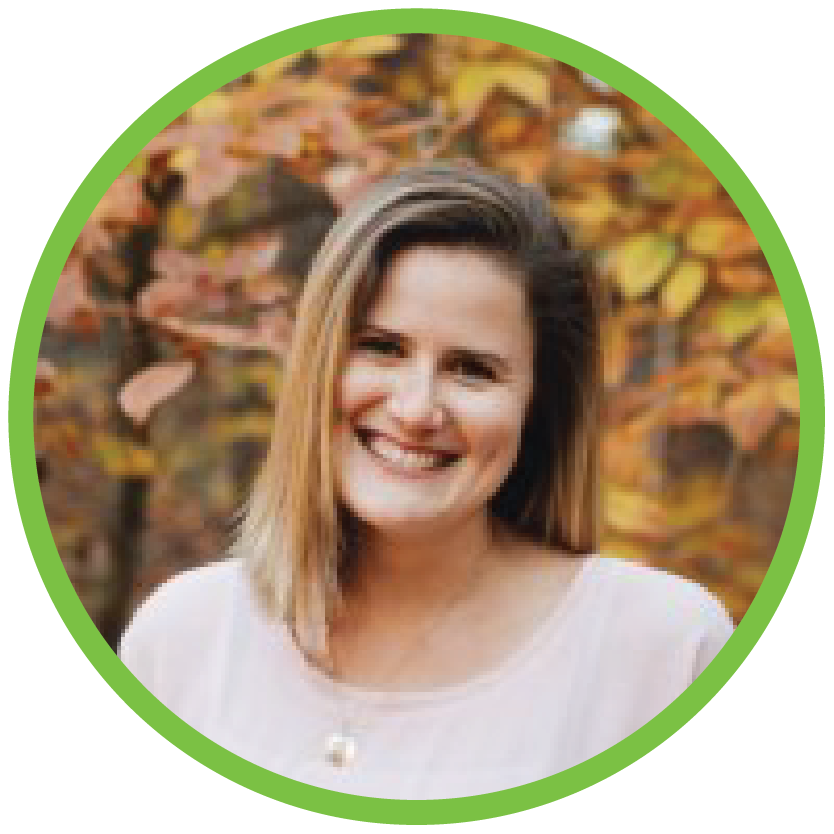 About the author
Rachel Damiani is a freelance science writer and the founder of Ecotone Science Writing & Photography, LLC. She received her Ph.D. in communication, M.A. in mass communication with a concentration in science/health, and B.S. in biology from the University of Florida. Prior to opening her business, Rachel worked as a science communications specialist for a large university and a research assistant in multiple biology laboratories. Her sole and co-authored work has been published in a variety of outlets, from the Washington Post to Ecology. As a freelance science writer with the Organization for Tropical Studies, Rachel enjoys collaborating with OTS staff, interviewing scientists and students from around the world, and telling stories about their fascinating research.